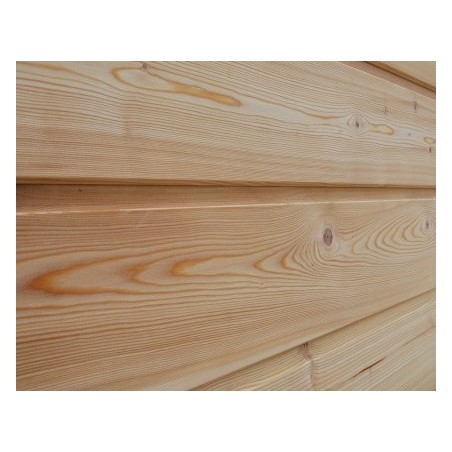 Kiln Dried Interior Cladding
Looking for internal cladding? Our range of kiln dried cladding boards will add beauty and acoustic/thermal benefits to any room. We offer many different cladding styles and many different wood species. The internal selection is below. If you are looking for external cladding then please view the UK's most extensive range of external cladding range here.
For any questions on the product range, call us on 01536 267107
Solid European Oak has been used for centuries to project strength and quality. A most beautiful cladding species manufactured on site here in the Midlands in many traditional and contemporary profiles available to buy online. Trade or Retail customers are very welcome. 

If stability, durability and beautifully grained natural cladding is required then there are few better choices than this very slow grown, incredibly dense softwood.

Our Siberian Larch is imported directly from Siberia where the trees grow slowly due to the long cold winters and short hot summers, making them incredibly dense. Due to its high resin content, it is also known for being one of the most durable softwoods in the world, thus requiring no treatment. 

A beautiful yellow/straw colour, similar to pine, should not be confused with the European larch growing in Britain, which is a dark pink colour. 

Our Siberian Larch is kiln dried to an 18% moisture content, making it ideal for use in both internal and external applications.

Thermowood is ultra-heated treated timber that carries a 30 year guarantee against decay. In addition Thermowood is dimensionally very stable and will move very little even in the most severe applications. UK Timber machine many profiles of Scandinavian Softwood Thermowood right here in the Midlands. No treatment is required to maintain the lovely deep brown colour when used internally. It is outstandingly beautiful and regular in appearance and machined in an exacting manner. 

English Ash is the perfect solution for many internal cladding purposes, being a naturally untreated product with creamy undertones, lighting up any room whilst having the clean uniform look desired in many contemporary homes. Ash when used internally is a highly durable hardwood that will provide generations of enjoyment.

Available in various profiles and section sizes, there's something for everyone!

You can contact our sales team at 01536 267107 or on the live chat on our website for more information and advice should you need it.