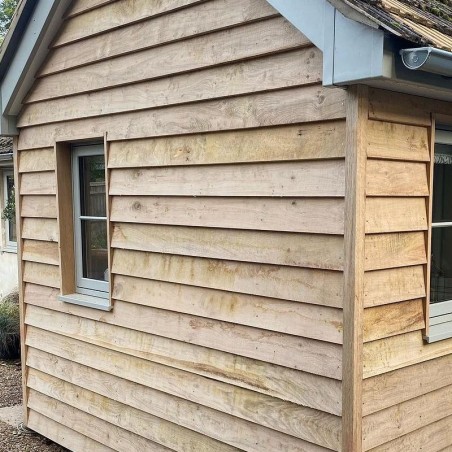 Timber Cladding
UK Timber Limited manufacture and supply a full range of cladding profiles ranging from traditional feather-edge and rustic waney edge, to the smooth sleek shadow lines of a machined shiplap profile. Timber cladding also referred to as weatherboards or weatherboarding, can add an extra dimension to a building. Different species can be utilised for cladding products to achieve your desired finish and level of protection. We offer timbers in a selection of hard-wearing and stunning materials, both treated and untreated, that can be used for both internal and external applications. 
Advantages of Timber Cladding
Main Advantages
 It is a lightweight material with protective functions
 It also has decorative design functions
 It is quick to install
 It reduces the size and cost of foundations
 It is applicable over a wide choice of species to suit all budgets
 Outstanding thermal properties
 It has outstanding sound insulation properties
 It is suitable for new build and renovation projects
 Easily repaired.
Aesthetic Advantages
 It has an attractive grain and colour
 It comes in various styles
 It is easy to redecorate
Environmental Advantages
 It is a renewable resource
 It is sustainable
 It has a low carbon footprint
 It can be recycled up to the end of its life
Timber Cladding Customisations
We can customise our cladding based on the client's specifications. Our customisation includes species, profile and grade. Customers can also stipulate their preferred lengths with our custom cut service.
Timber Cladding Certifications
Our cladding is all cut from visually graded material and is cropped from sustainable sources.
 They certify that merchants are against the destruction of the forest
 They certify that merchants are in favour of forest management
 They certify that the merchants offer high quality products
 They certify that merchants have social and environmental qualities