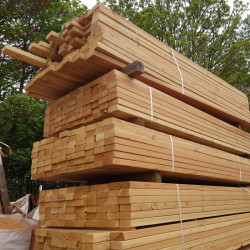 Long Life Premium Decking Joists
UK Timber Ltd have become synonymous with high quality, long life, beautifully machined decking boards in many materials. A common question that we are asked is how to build an equally durable subframe. Our Siberian larch decking joists were introduced a number of years back to answer that question, with a life expectancy of many decades they are the first of their kind and can be used for all high end decking projects in order to match the long life of even the most durable of decking boards.
If a warranted 15 year life span is going to be adequate for your decking purposes then please see our newest introduction: Inc15ed British softwood decking joists, these joists are manufactured in the UK to the most exacting standards. They are graded to C16 for structural use and then incised before treatment to allow total penetration of the treatment through the timber which extends their life dramatically, even in ground contact!
At UK Timber Ltd we believe that beauty is more than skin deep.
Showing 1-2 of 2 item(s)
Showing 1-2 of 2 item(s)