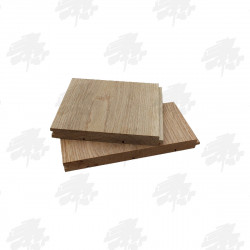 Solid American White Oak Flooring
American White Oak is a desired species when selecting a material for flooring due to the unique appearance of this hardwood. Unlike European oak, which is known for its golden colour, American Oak is lighter in colour with pinkish tones running throughout the grain, creating an elegant finish to your flooring project.
Our American White Oak flooring is available in both an unfinished character grade and rustic grade, to provide a finish that will complement your existing interior surroundings. If you are unsure of which finish will be most suited to your living space, explore our range of oak flooring samples.
This hardwood solid Oak flooring is manufactured from kiln-dried oak boards imported from America. Machined to a tongue and groove profile.