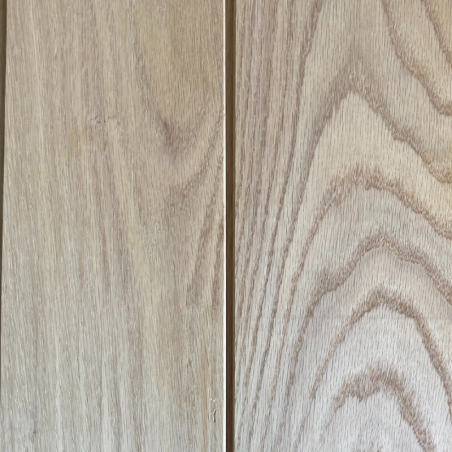 Solid English Ash Flooring
UK Timber Ltd manufacture our own Ash Wood floorboards on site and select the boards from our sawmilling process and monitor them all the way through board edging, into the drying kiln and onto the final machining. It enables us to monitor quality and grading from the beginning to the end. It also enables us to create matching skirting and architrave by default and sometimes even from the very same tree!
Compared to Oak, Ash provides a lighter, creamy colour allowing for paler looking flooring without the need to stain it whilst still keeping a strong grain pattern. Whilst it's not as strong as Oak may be, it is still suitable enough to be used in high maintenance areas such as hallways and kitchens without compromising their quality. Here at UK Timber, we offer our Hardwood Ash Wood Flooring in three grades; Prime Grade, Character Grade and Tavern grade to allow you to achieve the finish you desire for your internal surroundings.
If you are unsure of which flooring grade is most suited to your living space, explore our range of flooring samples before you make that all-important decision.
Solid Ash Wood flooring has many benefits which make it such a highly sought after product within our range. And because of its unique properties, Ash Wood floors are more tolerant of moisture than others - which makes it more resistant to everyday wear and tear. So if you are looking for something that's more tolerant of hard-wearing effects, then this is the flooring of choice. If you have any questions, please call us on 01536 267107 to discuss or speak to our team on our live chat in the corner.