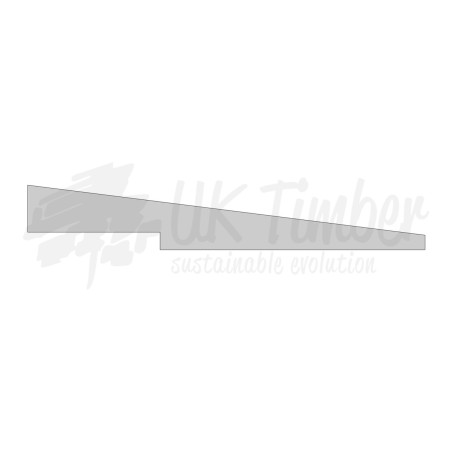 Rebated Featheredge
Similar to the featheredge cladding profile, Rebated Featheredge is a sawn board cut on the diagonal to produce a tapered board that is overlapped when fitted, similar to roof tiles. Our rebated featheredge boards are rebated to enable the featheredge to fix flat for additional stability and improved weather resistance.

Designed to be laid horizontally, it is important to make allowances for at least a 35mm overlap on each board (50mm is best) when making your calculations. Using rebated feather-edge horizontal boards for cladding, it is possible to reduce the overlap to 25mm but you should have a 2mm gap to allow for possible expansion of the boards. If your boards are exposed to varying weather conditions before fitting, they are likely to cup, warp and split; the ideal time to fit cladding to keep this to a minimum is between the months of October and April and within 7 to 14 days of delivery. It is of the utmost importance to follow fixing guidelines when fitting your cladding, due to the natural characteristics of the timber used.

Traditionally oak cladding was used but more recently other species have proven to be both durable and popular due to sometimes significantly lower costs. Here you will find our range of Rebated Featheredge Cladding in various section sizes and species at affordable prices.