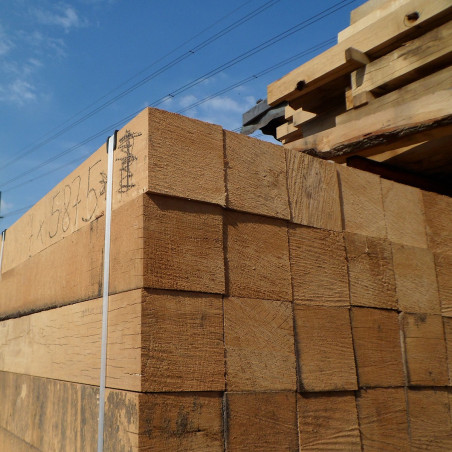 Structural Green Oak Beams
Green Oak is a fresh cut (fresh sawn) oak. 
Here at UK Timber, we cut most of our Green Oak to order using high end sawmilling machinery by highly skilled sawmill operators, all of whom are Trada certified timber graders. Quality is second nature to us. There is also a huge quantity of fresh sawn and air dried oak in stock here in Corby. As one of the few oak sawmills in the UK it is a matter of pride that we are able to turn round even the largest of orders in up to 10 working days - including delivery! 
Green oak beams are traditionally used for the creation of high end oak structures, to include Oak framed houses, Gazebos, Pergolas, Oak Framed Garages and many more. Our 'Customer Project Gallery' will give you an insight into the projects where we have supplied our high quality Structural Green Oak Beams and perhaps broaden your horizons for this most beautiful of building materials possibilities.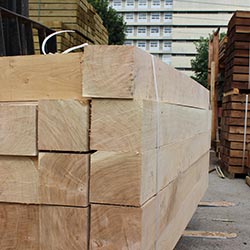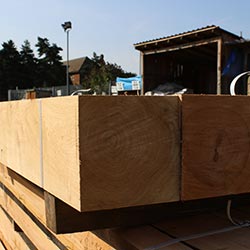 Standard

Section Sizes
Our Structural Green Oak Beams are available in the following standard section sizes:
150mm x 150mm
200mm x 150mm
200mm x 200mm
250mm x 150mm
250mm x 250mm
PLEASE NOTE: When preparing our standard section size oak beams for delivery, we always try to include a little extra length to be assured that the beam will fit the customer's requirements. If you would like us to crosscut the ends, please let us know when you place your order.
If you require a standard section size structural green oak beam to be planed, please contact our Sales Team on 01536 267107 who will be able to give you a price.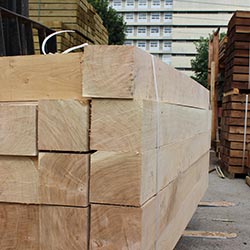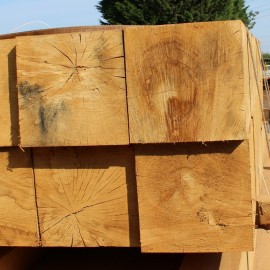 Oak Beam

Grading Service
Our numerous sawmills cut to standard and custom sizes in Green English/European Oak (quercusrobur).We can cut Structural Green Oak Beams to any size required and our on-site Graders will happily grade according to TRADA's THA (D40) or THB (D30) structural requirements amongst others for an additional charge.
Our oak beams are cut according to the European QP1 standards and the THA or THB standards, as approved by TRADA. We aim to buy from FSC (Forest Stewardship Council) and PEFC (Programme for the Endorsement of Forest Certification) acclaimed sources only. Our oak beams have a minimum of 3 straight edges with a tolerance of a small amount of wane to one edge. They are better utilised in the construction industry and for property renovations.
We always hold substantial amounts of trees to enable us to cut English/European Oak Beams to any size and any size order, from single beams to full truckloads.