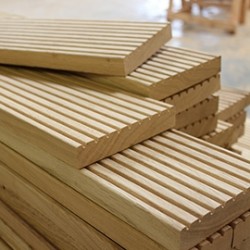 Decking Boards
UK Timber is the leading supplier for decking boards for the UK - and we offer a vast range of options which are both treated and untreated. Trade and retail orders are welcome to any quantity. Our boards are available in various hardwood and softwood species, such as English Oak, English Larch, Continental Redwood, Siberian Larch and Redwood Thermowood - allowing us to bring to you what we believe is the most complete and exclusive range of decking throughout the UK. And as we have been in the industry for many decades, we have fast become the UK's premier supplier - through which our trust and expertise is absolutely paramount. We're confident that our range will not only suit, but will exceed your expectations! 
We have built our own custom made production facility - which means that we are in complete control of the manufacturing / cutting process - thus allowing to bring a finish that will not be seen elsewhere. And because we're in control of production, this then enables us to deliver the best quality products once they have gone through the rigorous testing process. All of our boards are offered in a variety of lengths and section sizes, with the choice of either a bevelled-edge non-slip profile or smooth. If a finish is not stipulated then a bevelled-edge non-slip profile will be supplied as standard.
We offer a nationwide delivery service, that covers most of the UK. Please call us at any point if you wish to discuss any specifics of delivery, or for any more info on our below range of products. In addition to offering the finest range of timber garden deck boards, we have our own fleet of lorries and are in complete control of the logistical process. So you know that when you place an order with us, we will look after you from the beginning of the process to end.