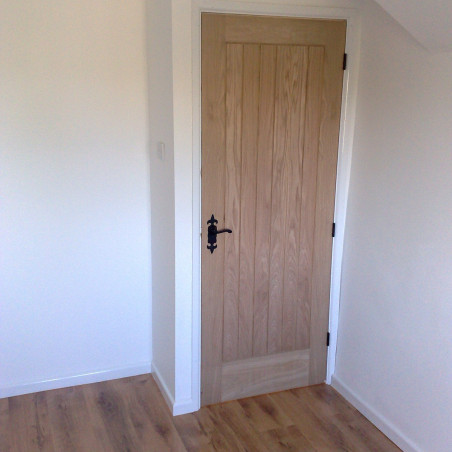 Solid Oak Doors
Solid Oak doors manufactured in the UK by UK Timber - one of the largest suppliers of hand crafted oak doors.  Our range below is already comprehensive but growing each month as new trends emerge.
Solid Oak doors are timeless and can be found in period properties the length and breadth of the country. It is hard to beat the thermal and acoustic properties of solid European oak. Keep warmth in and noise out!
Bespoke size doors can be made to any required size in any of the styles seen in the following categories, please call or email with your requirements. Our solid oak doors are supplied unfinished but sanded ready for final finishing. It is recommended that the doors are finished with a wax, varnish or oil. If properly cared for, your oak door will last for hundreds of years.
We believe our solid oak doors represent great value for money, hand crafted by our expert joiners right here in the Midlands.