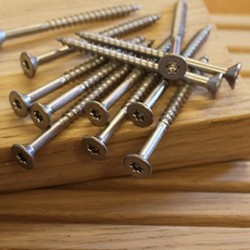 Tools and Fixings
You've bought the timber for your project and now you need the tools and fixings to get the job done. Here at UK Timber our range of high quality timber fixings and tools are enough to get any project off the ground. We stock and supply a range of landscaping screws, decking screws and galvanised nails and staples in various lengths, metals and box sizes.
It's important for us to know that you have the right tools and fixings for your timber, so that ultimately you get the very best result.
Our Timber Titan self-tapping and self-countersinking wood screws are ideal for most garden and landscaping purposes. They are designed specifically to pull large sections of timber together. By powering into the wood without the need to pre-drill pilot holes, the sharp point and tenacious thread make light work of securing decking bases, fence posts and railway sleepers. 

Driving a screw into a hole that isn't counter-sunk, gives the screw a very small point of contact, the force alone will tear the wood grain apart. A counter-sunk screw has a large surface area to drill a clean cut wood funnel, resulting in your screw being forced directly downwards ultimately giving you a clean finish. 

Alongside the screws self-tapping and self-countersinking abilities, they are pre-coated to prevent corrosion and have undergone 2000 hours of salt water testing so that we can guarantee you a durable and long lasting screw.

Available in various lengths:

100mm
150mm
200mm
250mm
300mm

Packs are available in quantities of:

A FREE drill bit is included with each pack.

Not suitable for saltwater applications or oak.  Please see our ASP Stainless Steel Flat Countersunk Head Decking Screws 60mm should you require a stainless steel screw for an oak product. 

Here at UK Timber we offer a range of cladding and decking screws suitable for use with all of our hardwood and softwood timbers, both treated and untreated, as well as screws that are suitable for composite decking and for use in saltwater applications.