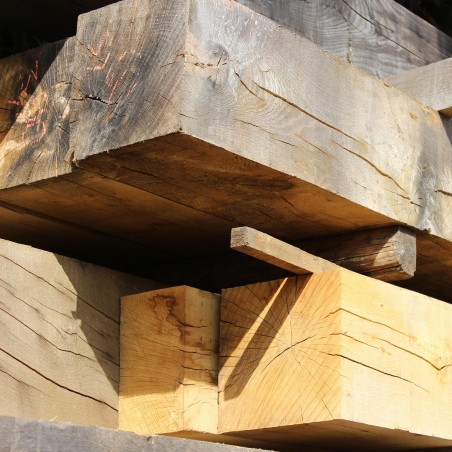 Air Dried Oak Beams
UK Timber Holds one of the UK's largest stocks of Air dried oak beams. Due to the lengthy natural drying process, air dried beams will have some surface checking, splits, possibly a little sap and may have a few historic boreholes - all of these characteristics make our Air-Dried Oak Beams one of the most popular ways of adding character to a new build or renovation, as well as not detracting from its structural qualities.
Here at UK Timber Limited, we hold huge stocks of Air-Dried European/English Oak (quercus robur) in all standard and widely used dimensions. In general we can deliver on our own fleet of crane enabled trucks within 10 Working Days!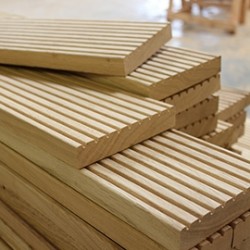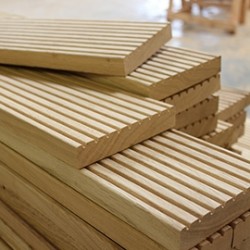 Oak Beam Grading Service
Our numerous sawmills cut to standard and custom sizes in Green English/European Oak (quercusrobur). We can cut Air-Dried Oak Beams from stock to any size required and our on-site Graders will happily grade according to TRADA's THA (D40) or THB (D30) structural requirements amongst others for an additional charge.
Our oak beams are cut according to the European QP1 standards and the THA or THB standards, as approved by TRADA. We aim to buy from FSC (Forest Stewardship Council) and PEFC (Programme for the Endorsement of Forest Certification) acclaimed sources only.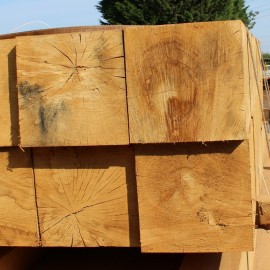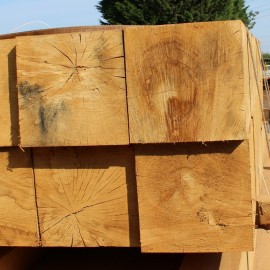 Air-Dried Oak Beam Standard Section Sizes
Our Air-Dried Oak Beams are available in the following standard section sizes:
100mm x 100mm
150mm x 150mm
200mm x 150mm
200mm x 200mm
250mm x 150mm
250mm x 250mm
PLEASE NOTE:
When preparing standard size oak beams for delivery, we always try to include a little extra length to be assured that the beam will fit the customer's requirements. If you would like us to
crosscut
the ends, please let us know when you place your order.
We hold huge stocks of air dried oak beams in square dimensions to enable us to cut English/European Oak Beams to any size and any size order, from single beams to full truck loads. Any sizes unavailable from our own stock can be ordered from our partner mills on the continent. If you wish we can also re-cut from larger dimension stock, however please be aware that this will mean different colours are present on the re-cut face and it will expose moisture variations.