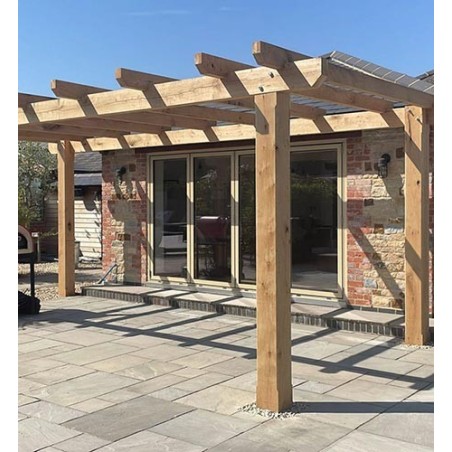 Pergola Kits
Why not create a stunning feature in your garden with one of our beautiful wooden pergola kits. These sturdy structures will fit in harmoniously with the landscaping in your garden, even more so by allowing climbing plants to grow up and around them.

Whether you are looking for a sturdy support for your climbing plants, to highlight a walkway or to make use of that little space in your garden that the sun always hits, our pergola kit range comprises of a variety of designs from freestanding pergolas, lean-to pergolas or suntrap terrace kits.

At UK Timber Limited, we offer both contemporary and traditional designs at an affordable price, enabling you to find a pergola that will fit your garden perfectly.
This category contains our range of Green Pressure Treated Softwood Pergola Kits, an affordable alternative to our Untreated English Larch/ Douglas Fir Pergola Kits.

This category contains our range of Untreated English Larch/Douglas Fir Pergola Kits, a quality alternative to our Green Pressure Treated Pergola Kits.